Pulling the Detroit client card for some is a bleak situation, there are so many warmer, more fabled places to travel. In this consultants opinion however, those thoughts are misguided. Ok I'll admit it's cold for 8-9 months a year but other than that Detroit can be a lot of fun. This guide will highlight some places to stay and things to see during your tenure in Detroit.
Hotels
Let's start with the hotel situation. For me, having grown-up in nearby Troy, Michigan, staying in a hotel in Detroit was a pretty foreign concept. Thus, I made the rounds to see what I liked and what I didn't. I was pretty surprised to see the prices as I thought they'd be cheaper but, I did find a few fun gems and a few nuggets of advice. Here is my list of hotels, favorites and the like.
The Foundation Hotel (https://detroitfoundationhotel.com/)

Located across from Cobo Hall with direct access to several freeways, I've found that the Detroit Foundation Hotel is the hotel to stay in. It's got an authentic classic Detroit feel and a restaurant with a New York Michelin star style and sensibility. The building is renovated from it's original form, which I don't know the history, but it feels like it could have been a 1920's Fire Station. Some of the style choices are odd, which gives the hotel a very unique feeling.
The rooms are fairly large, have a sizable bathroom and include a mini-bar that is worth note as it is stocked with unique and local items. The shower is a rectangular enclosure with a sliding door or open-door which means there may be some water on the floor and you have to deal with the whole being cold when getting out of the shower (which I personally am not a fan of). The gym is average-ish to below average, although their free weight system is a bit odd, there's some to be desired here.
All that said, the restaurant is fantastic. The menu is constantly changing and consists of locally sourced delights whipped up into a delicious frenzy by local chefs. This is the best "fancy" food I've eaten in Detroit.
The Aloft at David Whitney (https://www.marriott.com/hotels/travel/dtwal-aloft-detroit-at-the-david-whitney/)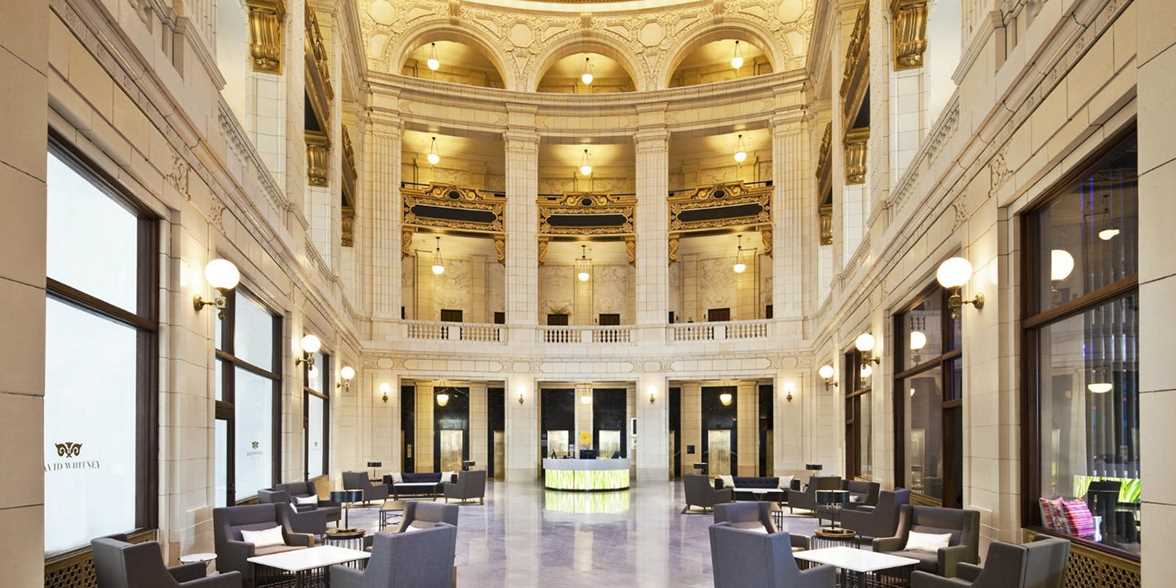 Another favorite of mine is the Aloft at David Whitney, which is part residence and part hotel. The David Whitney is similar to the Foundation Room in that it is a very unique hotel situated in a renovated classic building in the heart of Detroit. Comerica Park, Ford Field, and the Fox Theater are visible/walking distance from the hotel and most of the immediate streets are revitalized, providing visitors access to a lot of the unique aspects of Detroit. The rooms are very large with large windows. There really isn't a restaurant to be spoken of, there is a bar but every time I've walked by I've had no desire to find out what the situation is, particularly because there is so many restaurants within walking distance including the Foundation Hotel (Lover's Only and American Coney Island are other nearby favorites, though I admit the latter name is terrible).
The rooms are the largest I've found in the city and again the showers are rectangular enclosures which can lead to some wet floors and being cold coming out of showers, but it's totally survivable. The gym is average for what you'd expect. The main drawback for the Aloft is that it lacks any real hotel feel, which can obviously also be viewed as a positive. The main positive for the Aloft is that on top of a being a totally unique experience (due to the lack of the hotel feel) it is also a part of Marriott, so you know, points!
The Westin Book Cadillac (https://www.marriott.com/hotels/travel/dtwcw-the-westin-book-cadillac-detroit/)

The Westin Cadillac feels like my Detroit in that I haven't lived there in a long time and it is the only hotel on this list that feels like it probably existed while I was there. This is what I would call a very traditional feeling Westin, in fact in some aspects, it feels as though it even needs to be updated to the level of other average Westin's. Again, though, this is on the Marriott point system, which is nice. It also does have a larger selection of restaurants, though I elected to skip them, and it does have a Detroit focused shop in it if you're looking for a souvenir.
The last time I was here, the workers were on strike and picketing the hotel, so be careful of that.
Staying in the Burbs
Staying in the suburbs of Detroit is a viable option for a lot of client sites both in and around Detroit. As of late, I've had more interest in staying in the city given some of the recent updates and revitalization. I've listed a few unique options here, although there are far too many to call out here. That said, the Detroit suburbs are rich in history, and for many years were the primary destination/options for consultants. Unfortunately, many of these legacy hotels are dire need of updated, so be careful. Here are a few recommendations.
The Henry Ford Autograph Collection (http://www.behenry.com/)
This a boutique hotel that still sits on Spg/Marriott points system. It is near the Detroit Henry Ford Museum and Greenfield Village which are sites to checkout and has its own unique history and art collection. Other than that, the hotel has fairly average features. This is a nice option for people working around the Southfield area as the hotel is a bit outside of downtown Detroit in Dearborn (like 15-20 minutes drive)
The Hilton Garden Inn – Troy (website)
Hilton Garden Inn's are usually my last option when looking for Hilton Hotel options, this one however, is pretty nice as it is very new and sits very near to Somerset Collection (a fancy mall) and direct access to I-75 and a fairly large number of restaurant options. It is a step above the nearby Marriott, which is sorely in need of update but looks better from the outside and in pictures. All that said, this is deep in the suburbs and it may be that the only appeal is personal to me as this is squarely in my hometown. Other than that there really isn't much special about it.
Staying Across the River If you should like to visit and/or stay in Canada, it is a short drive across the river. I've had some staff do this and they had few issues. However, be careful this could add a lot of extra time on your commute and it is hard to predict when this might happen.
Places to Eat
Detroit is an eaters heaven, although on paper many may not realize it. The metro Detroit area is massive and consists of a large array of eateries and unique food. Detroit, has one of the most diverse populations in the world, which leads to a lot of authentic ethnic food as well. Here's my short list of favorite restaurants in the area:
The Apparatus Room The restaurant in the Detroit Foundation Hotel is an inspired American Cuisine restaurant that features New York farm-to-table styles in a historic setting. The restaurant sits within a rejuvenated fire station complete with three actual fire poles at the edge of the restaurant. That said, the subtle decor will be the last thing you consider as you're enjoying items made with midwestern ingredients on the menu (which changes with seasons). Put simply, this is a dining experience I would expect in New York, but was pleasantly surprised to find it situated in my old home town (well, I'm from Troy, but outside of Michigan, most people don't know the difference).
Coney Islands When one hears "Coney Island" they typically think of New York. However, these restaurants are purely Detroit. They are highly similar to diners in their fast and cheap options, however, the food is excellent and unique. My personal favorite is the chili, however, greek salads, kebabs and the like make this a great lunch or dinner option for quick, solid food with a Detroit flavor. There is too much history to cover here but if you want to read up on these restaurants you can do so here or by the book Detroit Coney (here)
There are a multitude of chains and mom and pop Coney Islands all of very similar styles, the best is usually the one that is closest to you at any given time, however, in terms of chains my personal favorite in order are:
National Coney Island (not the one in the airport)
Leo's Coney Island
Kirby's Coney Island
American Coney Island (the original in downtown Detroit)
Detroit Style Pizza Oddly, having grown up in Detroit, I didn't know that "Detroit style pizza" was a thing. It wasn't until I moved to Colorado and people started asking me if how I felt about Detroit style pizza, and a number of Detroit style pizza restaurants started popping up that I realized this was an actual genre of pizza. What I've come to know as Detroit style pizza is what I grew up calling Sicilian pizza. I'm still wondering if that has some foundation in Sicily but in any regard, I guess it's Detroit's now. You can get Detroit style pizza in most pizza places in Metro Detroit, however, Buddy's Pizza is somewhat of the institution.
Greek Food Greek food has a massive influence on the metro Detroit area. In fact, in Detroit, there is an area called, "Greek Town." You will find some of the best greek food in the country there. My personal favorite is a chain restaurant called, "Olga's" but most people around Detroit will tell you that Olga's in crap (I still love it, I don't care). Better examples may be found in Greek Town at places like:
The Golden Fleece
Santorini Estiatario
Pegasus Taverna
Slow's Barbecue Ok, this isn't worth any type of fight. Detroit BBQ is not on the map, nor should it be when compared to the likes of places in Dallas, Austin, North Carolina, Kansas City, or Memphis. In fact, this doesn't even qualify as my favorite BBQ in the area, that goes to Bad Brad's out the suburbs. However, Slow's is really good BBQ situated in Detroit's historic and recently revitalized Corktown. This will give you a full stomach and some experience around the city, particularly right near Michigan Central Station, one of the best examples of an abandoned building in Detroit.